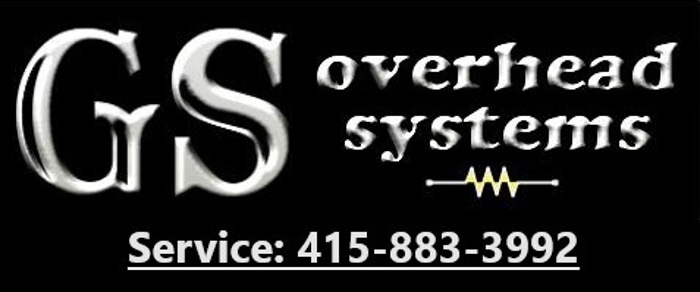 We Supply & Install New Garage Door Openers
Feel free to browse our inventory of LiftMaster Brand Garage Door Openers. Whether you are looking for the basic opener or something more sophisticated. Battery back-up units, cell phone and computer compatible units. Screw drive, 3/4hp chain-drive, 1/2hp belt-drive and jack shaft operators are all available at your local dealer. Fast, friendly service. Quality parts that last. Awesome prices! Experienced technicians take the extra time to make sure your new product is operating correctly and that you are fully satisfied with your new unit.
GS Overhead Systems Supplies and Installs all LiftMaster Brand Garage Door Openers. Be assured that your new investment will be professionally installed and backed with a full manufacturer's warranty, along with our extended service guarantee. We take time to negotiate and find the perfect opener for your garage door system. Call & schedule your install today...415-883-3992.
8500W LiftMaster DC Batter Backup Wall Mount Wi-Fi Garage Door Opener. Space saving design opens up the ceiling. Ultra quiet design eliminates vibrations through the ceiling. The included automatic garage door lock (841LM) secures your home automatically. Built in Wi-Fi makes it easy to connect the opener with your smart device. Receive alerts and open and close the garage door from anywhere with the My-Q app. Remote LED light mounts anywhere in the garage to brightly light the way. Storm proof power with integrated battery backup (481LM). Smart control panel (880LMW). Heavy lifting power. Lifetime motor warranty 5-year parts and 1 year on battery. Call our office for installation...
My-Q TECHNOLOGY
You can stay connected to your home wherever you go via your smart-phone, tablet or computer. My-Q enables you to manage, monitor and control everything from lights to garage door openers and beyond-anytime, and from anywhere. When you add the LiftMaster Internet Gateway to your garage door opener. (Model 828LM)
87504 Belt-Drive Garage Door Opener Smart garage door openers with battery backup, built-in led lighting (no changing light bulbs anymore) and camera. Very quiet and smooth operation. My-Q connected so you can control and monitor the garage from anywhere via cell phone. Security+2.0 safeguards garage access by sending a new code every time you use the remote. Invisible light beam system, Posi lock protection, motion detection. Comes with 2 3-button remotes. On sale until January 20, 2024. $895.00 Installed Price...
DC Battery backup chain-drive garage opener. With battery backup (model 485LM), Wi-Fi with integrated Bluetooth technology and My-Q connected. Steel chassis T-rail and trolley full chain-drive mechanism for rugged yet quite operation. Security+ 2.0 radio controls safeguards against unauthorized access by sending a new code with each click of the remote control. Safety sensor system auto reverses the garage door if there is an obstruction. Posilock mechanism protects against forced openings of the door. Multi-function wall console (model 882LMW) includes lockout control and accessibility programming. 3-Button remote control. HomeLink Compatible. $795.00 Installed Price...
Purchase LiftMaster Garage Door Openers
81602 Chain-Drive Garage Door Opener
84602 Chain-Drive Garage Door Opener
Smart garage opener with integrated dual led lighting. DC motor operates with smooth start/stop for reliable operation. Battery backup provides access during a power outage. Powerful chain-drive with a rugged steel one piece T-Rail for dependable performance. Security 2.0+ remote control system throws a new code every time you access the remote for security. Posilock system to prevent force entry. 886LMW wall console with motion detection for extra lighting. MyQ connected to monitor and control garage opener from anywhere. 3-button remote control 893LM for door control and light accessories. Call for pricing...
87802 Heavy Duty Chain-Drive Door Opener
Smart garage door opener with integrated LED lighting system. Battery backup for when the power is out. Heavy duty chain-drive with solid I beam rail for solid sturdy performance. Recommended for heavy type garage door system requiring an extra strong motor with added heavy-duty features. Security 2.0+ and MyQ connected. Smart control panel model 880LMW displays temperature and time. With motion sensor for lights and programming features like timer to close and lighting controls. 3-button remote control 893MAX for controlling 3 devices. Call for pricing...